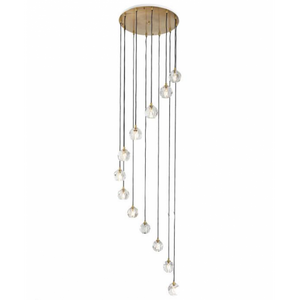 AM8820 CAPRI
Regular price $1,132.00 Sale
AM8820  CAPRI SUSPENDED SPIRAL CRYSTAL BOULE
DESCRIPTION:
Our series of Boule Crystal chandeliers have been created with the very best workmanship and attention to detail, Crafted of solid brass and crystal hexagonal and pentagonal facets in the weighty K9 crystal spheres which makes this series very desirable for the very best in interior design and special features. Totally flexible in design and finishes. The number of balls varies with the size of the frame, but rest assured, we can customize this piece to have just the right size frame and quantity of lights for you. In addition, this piece also features adjustable strands, so you can adjust the lights to hang as low as 12 ft. We can also make these adjusted to varying lengths for you. It's available in many different sizes to fit your needs and budget, ensuring you get the piece that is just right for you, this chandelier makes a grand statement. Elegant, classic, and eye-catching, this piece is best suited for an entry, living or dining room. Recreate a warm atmosphere with a specified feel at your own home and have yourself assisted in the decoration of your project, by our team of interior experts. I find brass to be the most dextrous, malleable, easiest metal to work with… it also goes back to our roots.
SPECIFICATIONS:
Collection: Art-Deco
Size: 24" Diameter x  66" Height (Custom sizes also available)
Shape: Pendant
Frame Finish: Burnished Brass (Different frame finish options also available at no additional cost)
Materials: Solid brass with K9 crystal
Weight: 53 LBS
Extension: Adjustable cables customizable length up to 12 ft. each
Bulbs:  16  L 40W max. T4 halogen bulbs (included) 110V USA/220V Europe E12-candelabra bulbs (included)
Assembly: Partly assembled. All pieces come with easy to understand instructions for your convenience.
Dimmer Switch Compatible: Optional
Shipping: Free Door-To-Door Shipping Worldwide
Rush Order: 4-6 Weeks; 15% added to total
Regular Lead Time: 6-10 Weeks
Warranty: 5 Years Full Coverage (includes replacement parts)
SIZE OPTIONS:

| | |
| --- | --- |
| Size | Price |
| 12" Diameter x  66" Height | $1,132.00 |
| 18" Diameter x  66" Height | $1,890.00 |
| 24" Diameter x  66" Height | $2,720.00 |
| 30" Diameter x  66" Height (As Shown on Image) | $3,540.00 |
| 36" Diameter x  66" Height | $4,990.00 |
| 42" Diameter x  66" Height | $5,770.00 |
| 48" Diameter x  66" Height | $6,414.00 |
| 55" Diameter x  66" Height | $7,933.00 |
CUSTOM SIZES, FINISHES, COLORS AVAILABLE UPON REQUEST