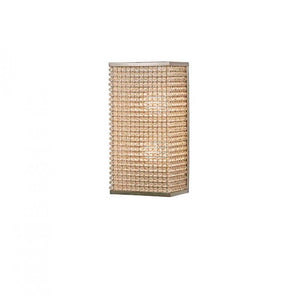 KA1770 CAMILE WALL SCONCE
Regular price $885.00 Sale
KA1770Camile Wall Sconce
DESCRIPTION:
Dramatic and sophisticated, this glamorous glass-beaded wall sconce brings statement-making style to any room. Let it make a sparkling impression with cascading crystal chandeliers in the foyer, or create an inviting ambiance with chic pendants in your master suite. Glittering crystals encircled by a metal framework give this metal sconce a luxe look. Balancing glamorous and toned-down finishes, this elegant chandelier offers a refined look for your living room or parlor. Because our lighting is made by a workforce that still relies on traditional working methods, each product is unique and carries with it the sensitivity of the artisan. These unique shapes and colors can be only created using traditional hand-blown glass techniques. It's layout and beautiful contemporary balance is truly something to cherish. All of the above (and more) are the reasons you will have many second glances, and even more compliments on this piece wherever it's placed. This is what a new age chandelier looks like.
SPECIFICATIONS:
Collection:  Wall Sconces
Size: 12" Length x 3" Width x 24" Heigh (Custom sizes also available)
Shape:  Rectangle
Frame Finish: Brushed Nickel (Different finish options available at no additional cost)
Materials: Stainless Steel, Crystal
Weight:  8.5 lbs 
Bulbs: 2 x E14
Assembly: Fully Assembled
Dimmer Switch Compatible: Yes
Shipping: LTL
Rush Order: 4-6 Weeks; 15% added to the total
Regular Lead Time: 6-10 Weeks
Warranty: 5 Years Full Coverage (includes replacement parts)
Return Policy: No returns, but we offer a 30-day exchange policy.
SIZE OPTIONS:
| | |
| --- | --- |
| Size: | Price: |
| 8" Length x 3" Width x 17" Height | $885.00 |
| 10" Length x 3" Width x 20" Height | $1,104.00 |
| 12" Length x 3" Width x 24" Height | $1,644.00 |
| 14" Length x 3" Width x 28" Height | $2,411.00 |
| 16" Length x 3" Width x 32" Height | $3,184.00                                             |
Custom Sizes, Finishes, Colors, Available Upon Request