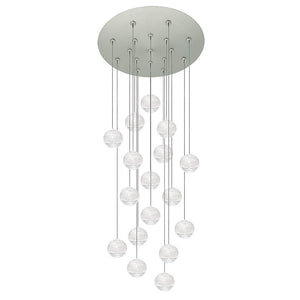 KA1821 SALAZAR ROUND
Regular price $2,265.00 Sale
KA1821 SALAZAR ROUND
DESCRIPTION:
These small thick crystal pieces focus on the way glass forms and light to penetrate. A swath of whipped glass clouds the bulb and creates patterns of light on all nearby surfaces. Hand blown and shaped in crystal these pieces are each unique. Our company provides collections that can make all your project dreams come true. All chandeliers can be customized by of lights, style, colors sizes to meet your specific needs. Having created custom chandeliers for over three decades, we specialize in bringing lighting concepts into reality, whether your inspiration comes from a rough sketch, an existing chandelier, our original concepts, or even your own creative imagination. Large or small, our team can meet the challenge. This hanging light sculpture looks interesting from any and makes nice shadows. Birthed from the distinct design wardrobe of Alan Mizrahi Lighting, this piece promises to deliver only the highest standard in design and materials.
SPECIFICATIONS:
Collection: Contemporary
Size: 20" Length x 20" Width x 40" Height (Custom sizes also available)
Extension: Adjustable cables customizable up to 12 ft 
Shape: Round Pendant
Frame Finish: Stainless Steel (Different finish options available at no additional cost)
Materials:  Steel, Sculpted Glass
Weight:  40 lbs
Bulbs: 75w max LED alternative available
Assembly: Each piece comes with easy to understand assembly instructions for your convenience.
Dimmer Switch Compatible: Yes
Shipping: LTL
Rush Order: 4-6 Weeks; 15% added to the total
Regular Lead Time: 6-10 Weeks
Warranty: 5 Years Full Coverage (includes replacement parts)
Return Policy: No returns, but we offer a 30-day exchange policy.
SIZE OPTIONS:
| | |
| --- | --- |
| Size: | Price: |
| 12" Length x 12" Width x 24" Height   | $2,265.00 |
| 16" Length x 16" Width x 32" Height | $4,427.00 |
| 20" Length x 20" Width x 40" Height (as shown( | $6,312.00                                |
| 26" Length x 26" Width x 52" Height | $7,617.00 |
| 32" Length x 32" Width x 64" Height | $9,843.00                      |
Custom Sizes, Finishes, Colors, Available Upon Request