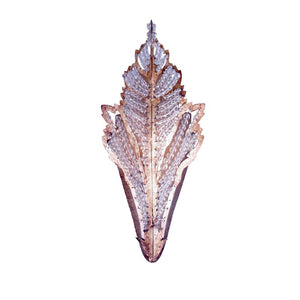 SL1311 BIARRITZ SCONCE
Regular price $1,126.00 Sale
SL1311 BIARRITZ SCONCES
DESCRIPTION:
The Biarritz Sconces design was inspired from nature. From below, the fixture resembles a crystallized snowflake. Viewed from the side, it recalls a cluster of stylized leaves outlined in our leafed finish. Many strands of crystal, resembling the soft veins in a leaf, complete this simple yet stylish design.  Attract attention, provoke emotion to the imagination with games of light and matter. Such as the ambition and the creative spark of the "Biarritz Pendant Fixture" style. This one of a kind lighting fixture will bring light and modern design to any space.
SPECIFICATIONS:
Collection: Wall Sconces  
Size: 8" Length x 4" Width x 17" Height (Custom sizes also available)
Extension: Wall Mount
Shape: Leaf
Frame Finish: Silver Leaf (Different finish options available at no additional cost)
Materials: Crystal, Steel
Weight: 8 lbs
Bulbs: 110V USA/220 V Europe - candelabra bulbs (included)
Assembly: Fully Assembled
Dimmer Switch Compatible: Yes
Shipping: LTL
Rush Order: 4-6 Weeks; 15% added to the total
Regular Lead Time: 6-10 Weeks
Warranty: 5 Years Full Coverage (includes replacement parts)
Return Policy: No returns, but we offer a 30-day exchange policy.
SIZE OPTIONS:
Size:
Price:
6" Length x 4" Width x 12" Height   
$

1,126.00

8" Length x 4" Width x 17" Height  (as shown)
$

1,756.00

10" Length x 5" Width x 20" Height   
$

2,618.00

14" Length x 7" Width x 26" Height   
$

3,504.00

                           
 Custom Sizes, Finishes, Colors Available Upon Request