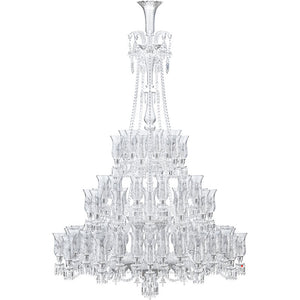 WM2143 ZENITH CLEAR
Regular price $4,370.00 Sale
Assembling loosely according to the classic Zenith working drawings, but using specially designed distorted prisms, and time and time again permitting emotions to overrule given systems, the result resembles the Zenith as we know it, yet turns it on its head. Campbell's object was more to play with the infinite possibilities that crystal offers, than to adhere to traditional covenants. The Zenith is cautious, and features a flickering candle amongst the glittering lights of the electrified chandelier—just in case. The chandelier leans gently to one side, as though reaching for something just outside its reach. It is thoughtful and understanding, with a myriad of small, deliberate "imperfections"—just like the people admiring it. Simply put, the  Zenith is little more human. 
Size: 79" Diameter x 124" Height (Custom sizes are also available!) 
Finishes: Polished Copper 
(
Different finish available at no additional cost)
Extension: Adjustable cord customizable up to 12 ft.
Assembly: Some assembly required.
Dimmer Switch Compatible: optional
Shipping: Free Door-To-Door Shipping Worldwide!
Rush Order: 4-6 Weeks; 15% added to the total
Regular Lead Time: 6-10 Weeks
Warranty: 5 Years Full Coverage (includes replacement parts)
| | |
| --- | --- |
| Size | Price |
| 42" Diameter x 64" Height | $4,370.00 |
| 50" Diameter x 76" Height | $6,593.00 |
| 65" Diameter x 88" Height | $8,760.00 |
| 79" Diameter x 124" Height | $12,915.00 |
| 86" Diameter x 124" Height | $16,822.00 |
 Custom Sizes, Finishes, Colors Available Upon Request